"Happiness is a butterfly, which when pursued, is always just beyond your grasp, but which, if you will sit down quietly, may alight upon you" - Nathaniel Hawthorne
At the start of July I decided to create a piece of embroidery featuring a butterfly motif. I'd recently watched Butterflies: A Very British Obsession over on BBC4 and I was inspired to stitch one of these beautiful creatures.
I downloaded a free template from the web and transferred the image onto a piece of linen. I chose this particular motif because it would give me the opportunity to try out a number of stitches. In particular I wanted to attempt satin stitch which I haven't tried for many years...
I started by outlining the wings in backstitch using a lovely teal thread.
I moved onto filling in the lower wings with satin stitch. Like I say, I haven't attempted this stitch for a long time. I looked at a number of tutorials online and then took the plunge. At first I wasn't happy with the way it turned out. To me, the stitches looked messy and uneven. I had recently read the satin stitch tutorial over on the Sublime Stitching site.
I love Jenny Hart's laid back attitude to embroidery. She makes you feel that you don't have to get too hung up about it all...her attitude towards Satin Stitch is summed up here: "It will probably look really terrible to you. Stop looking at it. Set it down, forget about it, and then pick it up again later. I bet you will be surprised by how nice it looks"
So I've tried to take her advice and not stress about it too much. I need to practice more, but I think the overall effect now the piece is finished is good. I'm not a sewing machine, it's impossible to make every stitch uniform...it is handmade after all.
I really enjoyed sewing this butterfly and I feel more confident with using Satin Stitch. If you are interested in creating the same butterfly motif, you can find it here on Mary Corbet's Needle and Thread website
With the school holidays in full swing, it's harder to find the time to sit down and sew. I need to think of a new project for August and it will probably involve a quote. I dyed some linen fabric a sunny yellow colour a few weeks back, so I'd like to incorporate it into my next crafting project...
I am linking up to August's "Crafting is my Therapy" with my butterfly hoop.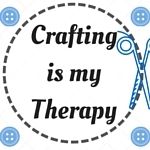 The focus of this link-up is crafting for pleasure, basically taking some 'me-time' to unwind in our busy lives. It doesn't have to be a finished project, we love seeing work in progress, planning posts or tutorials too. If you'd like to find out more about Crafting is my Therapy, please head over to this blog post.
This week I am also linking up with these lovely blogs:
HomeEtc over on www.thetwinklediaries.co.uk and mummyofboygirltwins.com