I can't believe we're into July already, June seemed to fly by. A new month means a new hashtag for our creative Instagram community. We'd love to see your crafty makes throughout July over on Instagram. Just add the tag
#craftingismytherapy_july
to include your images in our gallery.
This month we are delighted to announce we are working in partnership with Sugru to host a giveaway. One lucky person will be able to win a Sugru Create and Craft Kit. To be in with a chance of winning, all you need to do is to share a crafty photograph on Instagram using the hashtag #craftingismytherapy_july (please see full terms and conditions below).
Sugru is a mouldable glue and a brilliant product for crafters. The Craft and Create kit will help you to discover new techniques to fix, craft, emboss, texturise, design and upcycle. If you are looking for inspiration, head over to Sugru's 'Craft and Design' gallery. I particularly love the idea of creating hand stamps, which you can see below...
I'd also like to introduce our new co-host for July - Jen from Crafticland. Jen is a regular contributor to our Instagram community. Jen's website is full of tutorials designed to encourage you to get making. The idea behind Crafticland is think about the crafty supplies you may have sitting unloved in a cupboard somewhere & matching them up with a tutorial from Jen's website. It's a great idea and Jen is big part of the creative community over on Instagram.
June was a busy month for our Instagram community, we welcomed lots of new faces and I'm constantly inspired by all your creativity. We also have to say a big 'thank you' to June's co-host, Rosina from Zeens and Roger. She did a sterling job of spreading the word about our community. Head over to her Instagram feed to see more of her colourful crochet creations.
The grid below shows just a small selection of images from June's hashtag. I love seeing the wide variety of crafts...thank you so much for sharing your beautiful images with us. Click here to see the gallery in full…
Top row, left to right: @crafticland, @themessybrunette, @sewpopby
Middle row, left to right: @shirleyrainbow_tb, @sfmgs, @iamtheodoragoeswild
Bottom row, left to right: @sumoftheirstories, @jellybean_junction, @ella_makes
I know lots of you have beautiful Instagram accounts and I love the supportive nature of the creative community over there. Please feel free to tag as many crafty images with #craftingismytherapy_july throughout the month. At the end of the month, Jennifer and I will choose our favourite images and put together a round-up post over on Instagram. You can find my Instagram here
The focus of our hashtag is crafting for pleasure, basically taking some 'me-time' to unwind in our busy lives. It doesn't have to be a finished project, we love seeing work in progress, planning posts or tutorials too.
Grab the Crafting is my Therapy badge to display on your blog: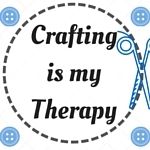 – Please share the love and comment on other people's images added to the gallery.
– If you share your images and use the hashtag #craftingismytherapy_july on any social media channels that would be great. This will help us to grow the community. We will retweet all your posts via Twitter if you mention us (@pouchvintage/@JenniferJain )
– And finally, if you would like to follow me on Twitter, Pinterest and Instagram, you're more than welcome! Jennifer Jain's links are here too: Twitter, Pinterest and Facebook.
Giveaway terms and conditions
The prize is a Sugru Create and Craft Kit.
To enter the giveaway you must tag at least one relevant photograph on Instagram with the hashtag #craftingismytherapy_july.
At the end of the month we will pick a winner at random from everyone that has used the hashtag.
The winner will be contacted by direct message on Instagram. If the winner does not respond within 14 days then we reserve the right to reallocate the prize.
This giveaway is open to international entries.
The prize will be provided and dispatched by Sugru.
The giveaway will remain open until 11.55pm (GMT) on Monday 31st July 2017.