I went up in the loft the other day looking for suitcases. As is often the way when venturing into our loft, I got sidetracked by boxes of nostalgia. Whilst rummaging through one craft box, I was bowled over to find my first ever piece of embroidery. I think it was stitched when I was about eight or nine. The white cotton hankie given to me by my Mum 'to practise on' was still in the embroidery hoop. Exactly as I left it over thirty years ago.
I must've tucked it away when I left home to go to university. It has followed me around several house moves and it was lovely to see it again. Alongside my childhood attempts at embroidery were the vintage transfer sheets I'd used. These were my Mum's from when she first started to sew, so they date from late 1950s to early 1960s. Most of them were free gifts inside magazines, which my Mum must've carefully saved.
I grew up watching my Mum sew and she always encouraged me to have a go. I remember her showing me the 'Mazurka' piece she had sewn as a young teenager. It combined embroidery stitches and applique, I thought it looked beautiful. She made the appliqued piece of linen into a cushion cover and it sat pride of place in my childhood bedroom for many years. I don't know what ever happened to it, which is a shame.
I was in awe of her sewing skills and I must've badgered her to let me have a go. She gave me free rein to search through her delicate embroidery transfers. I was drawn to the flower posy and she ironed the image onto a hankerchief for me. She also gave me the embroidery threads from her childhood, which in turn had belonged to my late-grandmother. I blogged about the tin here.
In hindsight I bit off more than I could chew for a first project and I must've lost interest after a while. It has remained unfinished for over thirty years. I wonder if I could attempt it again now? Even as an adult it looks a bit daunting. Even though it's not complete, I do remember enjoying sewing my wonky satin stitch. As a child I felt relaxed by the repetition of pushing the needle in and out of the fabric. I enjoyed seeing the colour build up on the fabric.
It's something I still enjoy to this day and I have my Mum and Grandmother to thank for instilling a love of sewing at such a young age. When sitting with some embroidery, my own daughter occasionally watches over my shoulder. She is starting to take an interest in sewing. She can even identify some stitches and comments on 'my lovely sewing'...which makes me smile. I hope she will be inspired to be creative with thread too...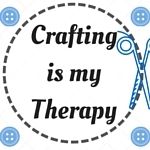 I've linked up with July's Crafting is my Therapy with this post. I co-host #craftingismytherapy with Jennifer Jain. The focus of this linky is crafting for pleasure, basically taking some 'me-time' to unwind in our busy lives. It doesn't have to be a finished project, we love seeing work in progress, planning posts or tutorials too.
This week I am linking up with these lovely blogs:
Craft Frenzy Friday over on craftdictator.com
Share The Joy over on thejoychaser.com and contentmum.com
HomeEtc over on mummyofboygirltwins.com
Pick 'n Mix over on www.acornishmum.com
Blogger Club UK over on www.cuddlefairy.com