Welcome to the Sixth "Crafting is my Therapy" blog link-up.
I hope you've had a wonderful month or making and creating.

- June has been a hectic month for me. I have so many things I want to make and not enough time. I'm really grateful I started the Crafting is my Therapy project because it does spur me on to sit down and create. Even if it is just for half an hour. It doesn't have to be a perfectly finished piece of craft, just tapping into your creativity for a few minutes can help with your wellbeing. I did manage to sew this little "Crafting is my Therapy" hoop. It's embellished with vintage buttons that belonged to my late-grandmother. I am hoping to make a start on a piece of embroidery featuring a butterfly motif in July.
In June we had a lovely selection of crafts added to our link-up.
It was nice to see new craft bloggers getting involved with our crafting community.
We loved seeing everything you've created.
This month we are holding another giveaway. The lovely people at Sugru have donated a fab prize. One lucky winner will win:
Sugru Starter Kit
Sugru Magnet Kit
Sugru 8 Pack in a range of bright colours
Never heard of Sugru?
"Sugru is the world's first mouldable glue that sticks to almost anything and turns into a strong flexible rubber overnight. Invented for people looking to repair and improve stuff, it's used by people in over 160 countries - from homeowners planning DIY projects through to people making small improvements to gadgets, appliances and even toys."
Sugru is amazing stuff. Jennifer, my co-host, has used it many times and is a big fan. You can see her crafty Sugru makes here. Sugru actively welcome customers to share ideas with others. You can see tons of ideas on their website...I particularly love their "Craft & Making" section
You can find the Sugru giveaway rules at the bottom of this post...good luck!
Last month we also held a colouring book giveaway. There were 10 posts (not including the hosts) added to our link-up in June. Using the random number generator, I can tell you that the winner is…A Saucy Stitch! Two colouring books will be heading your way shortly.
Have you created anything crafty this month? If you sew, knit, crochet, paint, work with ceramics…please join in and share your blog posts.
The focus of this linky is crafting for pleasure, basically taking some 'me-time' to unwind in our busy lives. It doesn't have to be a finished project, we love seeing work in progress, planning posts or tutorials too.
Grab the Crafting is my Therapy badge: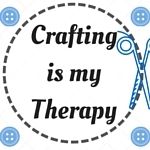 I co-host Crafting is my Therapy with Jennifer Jain. She writes the popular craft blog Jennifers Little World
Jennifer hosts our Pinterest group board. Would you like your blog posts to be seen by over 700K followers? Craft Bloggers linking to #craftingismytherapy are welcome to join our board. It's a great way for your posts to reach a wider audience...
The "Crafting is my Therapy" linky will open on 02/07/2016 and stay open for the whole month – giving you plenty of time to get involved.
–You can link up with maximum of three posts per month, old or new.
–Grab the linky badge or link back to our blogs on your post.
–Please share the love and comment on other people's posts.
–If you could share your post and the linky (using the hashtag #craftingismytherapy) on any social media channels that would be great. This will help us to grow the community. We will retweet all your posts via Twitter if you mention us (@pouchvintage/@JenniferJain )
–And finally, if you would like to follow me on Twitter, Pinterest and Instagram, you're more than welcome! Jennifer Jain's links are here too: Twitter, Pinterest and Facebook.
Giveaway Entry Rules:
– One winner will receive the Sugru kits described above.
– The winner will be chosen at random from eligible entries to the linky this month.
– In order for an entry to be eligible it must be a relevant post, it must mention the "Crafting is my Therapy" linky either by text link or using the badge. It must link back to one of the hosts. The linky will remain open until 11.55pm (GMT) on the 31st July 2016.
– If the winner does not respond within 28 days we will redraw and reallocate the prize. There is no cash alternative. Invalid entries will be discounted.