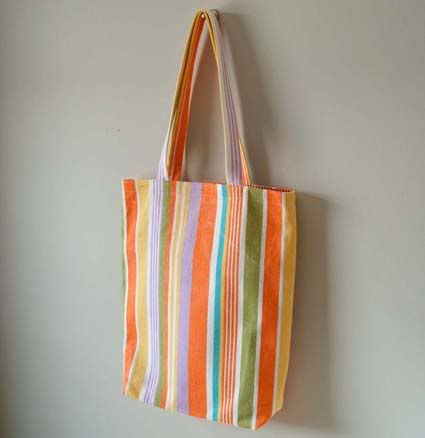 I thought it was high time I ran another giveaway on my blog. Up for grabs is this bold and Summery Canvas Stripey Tote. made from sturdy canvas in shades of citrus orange, sunny yellow, lime green and pale purple.
Perfect for taking to the shops to stock up on provisions. Also makes a great knitting bag, book bag, gym bag, you can cram virtually anything into this handy tote.
How to enter:
mandatory
- Leave a comment stating your favorite item from my
Etsy store
. This applies to both new and old followers.
Three additional ways to enter:
1. Become a follower of my blog. Leave a comment and let me know that you're new.
2. If you are already a follower of my blog (as of July 1st, 2010) and you choose to enter by leaving a comment, you will be entered twice in the giveaway. Although I've made a note of my followers, please remind me by stating 'I'm already a follower' when you leave a comment. This is a way to say thank you to everyone who's been reading my blog over the past few months!
3. Tweet this giveaway:
@pouchdesigns July Tote Giveaway http://pouchbags.blogspot.com/2010/06/july-tote-giveaway.html
**If you enter this giveaway, please state clearly your email address, OR your Facebook/Twitter/Etsy username, so I can contact you in case you win**
The giveaway is open to everyone in the world, and will run from July 1st 2010 through to Midnight (BST) on July 15th, 2010. I will pick a winner at random, and announce the winner on July 16th, 2010.
**UPDATE**
This giveaway is now closed, thanks to all who took part!