We love Clevedon in North Somerset. It is a special place for us because it's where we tied the knot back in 2009.
We went to Clevedon on Saturday for a Winter walk. It was a very chilly, crisp December day...but unbelievably still. I happened to turn around just as we were about to climb the hill and the Marine Lake on the seafront was so calm it looked like a mirror.
For years we've been visiting Clevedon and turning right out of the car park to walk along the seafront. Lured in that particular direction by the views of the elegant pier, ice creams and the amazing shops in Hill Road.
Today we decided to turn left out of the car park and walked up the hill towards an area called Poets Walk.
It's a bit of a climb, but once at the top you are rewarded with views across to Wales, the Mendips and the Somerset Levels. You also pass a pretty church and graveyard, in fact, it is the church used in the ITV drama Broadchurch.
The area between Weston-super-Mare and Clevedon is a beautiful part of the levels, it is virtually untouched by roads and probably hasn't changed for hundreds of years. Sustrans have been campaigning for a cycle track to be created on the section of the coast between Weston & Clevedon for over twenty years. It would create a much needed link between the two towns and I would love to cycle along that particular stretch.
Now we've discovered this part of Clevedon, I can safely say we will be back for many more walks in the future...
I'm linking up with #countrykids fun over on the Coombe Mill blog
I'm also linking up with the Magic Moments link-up on the Oliver's Madhouse blog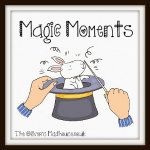 And linking up with the Brilliant Blog Posts link-up on the honestmum.com blog