Art and creativity have an important role to play in improving the health and well-being of individuals. Therapeutic effects include relaxation, a way to express yourself and can lower blood pressure. In addition, these effects can boost the immune system and reduce stress.
For me, hand sewing is one of the ways I like to relax. I find concentrating on the stitches helps me to focus on the moment, like a form of mindfulness. I also like the sense of accomplishment when I reach the end of a sewing project. I run my fingers over the stitches and feel proud of my handiwork. Once one project is complete, my mind jumps to the next idea. It's definitely an outlet for my creativity.
Over the past nine years I have created many pieces using hand sewing techniques. Such as Happy Cat Waving inspired by a drawing my niece created when she was six. I love to embroider some of my favourite quotes, like this Dr Seuss nugget from "Oh the Places You'll Go". More recently I have sewn an applique version of my vintage fabric rabbits and a nostalgia inspired fortieth birthday canvas for a friend of mine.
I have enjoyed making every one of them and yet I often don't have the time to sit down and stitch. Or I don't allow myself to have the time. I think it's indulgent to sit down with fabric and threads when I could be doing something more 'important' such as housework, paperwork, food shopping. The less than thrilling tasks a busy home requires to keep ticking over take priority over sewing.
I've recently blogged about wanting to protect my mental health and embrace my creativity. So why don't I make something that makes me happy a bigger part of my life? It's probably a question many busy people ask themselves whilst trying to juggle work and family life.
I took part in a Story of Mum "Make Date" on Twitter a few days ago. These "Make Dates" are great fun and offer "a chance for mums to get together on twitter and tweet while we attempt to do something creative - like doodling, taking a photo, writing poetry, making stuff or even squidging plasticine. We give ourselves some creative me-time and connect with other lovely mums."
Whilst chatting to the other Mums I talked about wanting to get back into sewing. Many of my projects sit abandoned in a box upstairs because I 'don't have time' to complete them. My New Year blog post focussed on a popular Anne Lamott quote and the wish to "embrace a big, juicy creative life' and resolve to do less of the things that make me feel bad.
A combination of absorbing the Anne Lamott quote and the Story of Mum "Make Date" gave me the impetus to pick up my sewing again. I completed this vintage fabric "Sewing Mends the Soul" embroidery hoop last week. It's not a ground breaking piece of textile art, but it makes me smile.
This year I am going to aim to create at least one sewing project a month. I will blog about my creations and use the hashtag #craftingismytherapy over on my Twitter, Facebook and Instagram.
I would encourage everyone to make some space in their life to tune into creative pursuits. Whether it's painting, throwing some clay on a wheel, metalwork, music making, carving wood or doodling...whatever inspires you creatively. Just enjoy taking the time to do something that makes you happy.
Grab my badge below...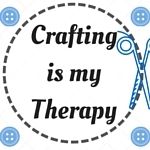 if you'd like to sew more of my sewing projects, I have a board over on Pinterest:
Follow Pouch : blogging + craft's board Hand embroidered wall art on Pinterest.