Welcome to the eleventh "Crafting is my Therapy" monthly blog link-up.
I hope you've had a wonderful month of making and creating.
December will be the last time we host the "Crafting is my Therapy" linky for a little while. I am currently spinning lots of plates at the moment. I started my 'Supporting Teaching and Learning in Schools' training course in September and it takes up lots of my time. Bearing in mind I haven't written an essay for over twenty years, starting this course has been a shock to the system. I feel like I'm drowning in coursework! Alongside working part time and life in general, something has to give. Unfortunately, I have to cut back on the time I spend on my blog. Hopefully this is just a pause for 'Crafting is my Therapy' and not a final goodbye :)
I've enjoyed seeing all your crafty posts and I've discovered some amazing new blogs over the past few months of hosting the linky. A big thank you to Elsie Pop, Relentlessly Purple, Zeens and Roger, Growing Family, The Messy Brunette, Hillview Embroidery and Suzy Homemaker for linking up last month. A big thank you to all of you for supporting our linky in 2016, we appreciate each and every one of your retweets and link-backs!
Because we love seeing the projects you are working on, Jennifer and myself would love to keep our little community connected. We've decided to launch an Instagram hashtag. Each month it will change to reflect the month we're in. This month it will be - #craftingismytherapy_december
I know lots of you have beautiful Instagram accounts and I love the supportive nature of the creative community over there. Please feel free to tag as many crafty images with #craftingismytherapy_december throughout the month. At the end of the month, Jennifer and I will choose our favourite images and put together a round-up post over on Instagram. You can find my Instagram here
As a farewell treat for you all, we are hosting a giveaway. We have put together a bundle of craft supplies, including: a small box canvas, wooden hearts to decorate, coloured sheets of felt, sea shells, wooden frame to decorate, heart buttons, Bostik Glu Pen, Bostik Glu Dots, Blu Tack, two rolls of patterned tape and a glitter Pritt stick.
To be in with a chance of winning, please link up with your creative blog posts below…
Have you created anything crafty this month? Sewing, knitting, crochet, painting or pottery…please join in and share your blog posts.
The focus of our blog link-up is crafting for pleasure, basically taking some 'me-time' to unwind in our busy lives. It doesn't have to be a finished project, we love seeing work in progress, planning posts or tutorials too.
Grab the Crafting is my Therapy badge: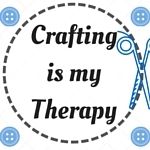 I co-host Crafting is my Therapy with Jennifer Jain. She writes the popular craft blog
Jennifers Little World
Jennifer hosts our Pinterest group board. Would you like your blog posts to be seen by over 700K followers? Craft Bloggers linking to #craftingismytherapy are welcome to join our board. It's a great way for your posts to reach a wider audience...
The "Crafting is my Therapy" linky will open on 2nd December at 7.30pm (GMT) and stay open for the whole month – giving you plenty of time to get involved.
– You can link up with maximum of three posts per month, old or new.
– The focus of the linky is crafting for pleasure, so please don't link up with posts promoting handmade items for sale.
– Grab the linky badge or link back to our blogs on your post.
– Please share the love and comment on other people's posts.
– If you could share your post and the linky (using the hashtag #craftingismytherapy) on any social media channels that would be great. This will help us to grow the community. We will retweet all your posts via Twitter if you mention us (@pouchvintage/@JenniferJain )
– And finally, if you would like to follow me on Twitter, Pinterest and Instagram, you're more than welcome! Jennifer Jain's links are here too: Twitter, Pinterest and Facebook.
Giveaway Entry Rules:
– One winner will receive the bundle of craft prizes described above.
– The winner will be chosen at random from eligible entries to the linky this month.
– This giveaway is only open to residents of the United Kingdom.
– In order for an entry to be eligible it must be a relevant post, it must mention the "Crafting is my Therapy" linky either by text link or using the badge. It must link back to one of the hosts. The linky will remain open until 11.55pm (GMT) on Friday 30th December 2016.
– If the winner does not respond within 28 days we will redraw and reallocate the prize. There is no cash alternative. Invalid entries will be discounted.