Welcome to the fourth "Crafting is my Therapy" blog linky.
I hope you've had a wonderful month or making and creating.
This month we are holding another giveaway.
Up for grabs is a fab selection of crafting materials including:
Stabilo colouring pencils // Blu Tack Glu Dots // Blu Tack Foam Pads // Sellotape Clever Tape // Three rolls of decorative fabric tape // Two Sharpie pens, thin and thick // Metallic marker pens // Pack of ribbons // Large decorated wooden buttons
For a chance to win, simply link-up below with your crafty blog posts.
Full entry rules can be found further down in this post.
This month I have been:
- Working on my "it's Cool to be Kind" embroidery hoop. I was inspired by selfless acts carried out by people who are either paid or unpaid carers. Kindness is something I value in my own life and it can often be overlooked. Head over to my blog post to read more. I'd love to know your thoughts on this subject, either as a carer or as someone who is cared-for. I'd also like to hear about experiences where an act of kindness has made a difference to your life.
Last month was our busiest link-up so far. We loved seeing everything you've created. My favourite links from last month's Crafting is my Therapy are:
– I was genuinely moved by Amy Loves to Sew's post about the handmade artwork she created for her baby daughter. So much thought & effort went into the piece. This is the real beauty behind making something yourself…you can put lots of love into it.
– As a vintage fabric fan, I adored Zeens and Roger's patchwork knitting bag, head to her blog to find out more…
– The Messy Brunette worked her crafty magic on her haul of prizes won from a blog giveaway. I make no secret of the fact I love her hand painted jars and take every opportunity to tell her so. Hopefully she will put together a tutorial on her blog soon
– And finally, Simply Blossoms blogged about an ingenious way to colour match yarn before you start a knitting or crochet project. Take a look at her post to see the idea in all its colourful glory.
April's Giveaway Winner
Last month we also held a giveaway. There were 8 posts (not including the hosts) added to our link-up in April. Using the random number generator, I can tell you that the winner is…Amy Loves to Sew! A bundle of crafty goodies will be heading her way shortly.
Have you created anything crafty this month? If you sew, knit, crochet, paint, work with ceramics…please join in and share your work.
The focus of this linky is crafting for pleasure, basically taking some 'me-time' to unwind in our busy lives. It doesn't have to be a finished project, I love seeing work in progress, planning posts or tutorials too.
Please Grab the Crafting is my Therapy badge: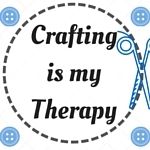 Giveaway Entry Rules:
- The prize is a box of crafty goodies as detailed above.
- The winner will be chosen at random from eligible entries to the linky this month.
- In order for an entry to be eligible it must be a relevant post, it must mention the Crafting is my Therapy linky either by text or using the badge, and it must link back to one of the linky hosts. The linky will remain open until Thursday June 2nd 2016.
- If the winner does not respond within 28 days we will redraw and reallocate the prize. There is no cash alternative. Invalid entries will be discounted.
I co-host Crafting is my Therapy with Jennifer Jain. She writes the popular craft blog Jennifers Little World
Jennifer hosts our Pinterest group board. Want to be seen by over 700K followers? Craft Bloggers linking to #craftingismytherapy are welcome to join our board. It's a great way for your posts to reach a wider audience...
The "Crafting is my Therapy" linky will open on the first Friday of each month and stay open for the whole month – giving you plenty of time to get involved.
– You can link up with maximum of three posts per month, old or new.
– Grab the linky badge or link back to our blogs on your post.
– Please share the love and comment on other people's posts.
– If you could share your post and the linky (using the hashtag #craftingismytherapy) on any social media channels that would be great. This will help us to grow the community. We will retweet all your posts via Twitter if you mention us (@pouchvintage/@JenniferJain )
– If you would like to follow me on Twitter, Pinterest and Instagram, you're more than welcome! Jennifer Jain's links are here too: Twitter, Pinterest and Facebook.