Welcome to the ninth "Crafting is my Therapy" blog link-up.
I hope you've had a wonderful month or making and creating.
September saw our busiest month yet on the 'Crafting is my Therapy" linky. Welcome to all our new crafters, including Elsie Pop, Relentlessly Purple, Crafty Linby and Knitting and So On who joined us for the first time in September.
This month I have been practising some new embroidery stitches. I've always wanted to try the Lazy Daisy stitch. It's a classic stitch and a great one for creating texture on a piece. I have also attempted Ribbed Web Stitch. It's quite an unusual one, a mixture of sewing and weaving. Head over to my post to see how I got on…
Last month we also held a Posca Pen giveaway. There were 15 posts (not including the hosts) added to our link-up in September. Using the random number generator, I can tell you that the winner is…Relentlessly Purple! A pack of Posca Pens will be heading her way shortly...
Have you created anything crafty this month? Sewing, knitting, crochet, painting or pottery…please join in and share your blog posts.
The focus of this linky is crafting for pleasure, basically taking some 'me-time' to unwind in our busy lives. It doesn't have to be a finished project, we love seeing work in progress, planning posts or tutorials too.
Please grab the Crafting is my Therapy badge: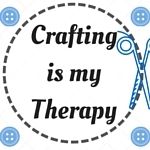 I co-host Crafting is my Therapy with Jennifer Jain. She writes the popular craft blog Jennifers Little World
Jennifer hosts our Pinterest group board. Would you like your blog posts to be seen by over 700K followers? Craft Bloggers linking to #craftingismytherapy are welcome to join our board. It's a great way for your posts to reach a wider audience...
The "Crafting is my Therapy" linky will open on 7th October at 7pm (GMT) and stays open for the whole month – giving you plenty of time to get involved.
– You can link up with maximum of three posts per month, old or new.
– The focus of the linky is crafting for pleasure, so please don't link up with posts promoting handmade items for sale.
– Grab the linky badge or link back to our blogs on your post.
– Please share the love and comment on other people's posts.
– If you could share your post and the linky (using the hashtag #craftingismytherapy) on any social media channels that would be great. This will help us to grow the community. We will retweet all your posts via Twitter if you mention us (@pouchvintage/@JenniferJain )
– And finally, if you would like to follow me on Twitter, Pinterest and Instagram, you're more than welcome! Jennifer Jain's links are here too: Twitter, Pinterest and Facebook.