Welcome to the launch of the Crafting is my Therapy linky!
Designing and making have been a big part of my life for nearly a decade. I opened my Etsy shop back in 2007 and I have been a features writer for
UK Handmade Magazine
since 2008.
I love all crafts, but for me, sewing is my therapy. Making stuff has helped me through some tough times in my life, it has given me something positive to focus on. From the very beginning I got a buzz from running my online shop. I loved the fact my handmade items were winging their way across the planet. It's a lovely feeling to know that someone likes your work.
Over the past year I have been working part-time as a
Shared Lives Carer
supporting adults with learning disabilities. It's work that I enjoy, but it does take me away from the crafting side of things.
Sewing relaxes me and makes me happy. But, I don't make the time to do any sewing. I prioritise housework, paperwork, food shopping and zoning out in front of the television over my creative life. Over the past year or so, I've felt disheartened and became disinterested in my own making. It felt like my crafting mojo deserted me for a while...
I decided at the start of this year to change that.
This Anne Lamott quote struck a chord and it has inspired me to get creative.
With encouragement from online friends, particularly from the
Story of Mum community
, I have started to stitch again.
I have wanted to start a linky for a while now, but felt slightly nervous about hosting on my own. Luckily I met a like-minded crafter via Twitter and we have decided to take the plunge together. I am delighted to say that I will be co-hosting this Linky with Jennifer Jain. She writes the popular craft blog
Jennifers Little World
.
I want to try and complete a sewing or crafting project each month. It would be also wonderful to encourage others to make time to be creative. That is why we decided to create the "Crafting is my Therapy" linky. I love seeing other people's creations. So if you sew, knit, crochet, paint, work with ceramics…please join in and share your work.
The focus of this linky is crafting for pleasure, basically taking some 'me-time' to unwind in our busy lives. It doesn't have to be a finished project, I love seeing work in progress photos or tutorial posts too.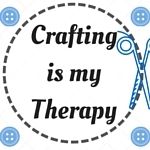 The "Crafting is my Therapy" linky will open on the first Friday of each month and stay open for the whole month – giving you plenty of time to get involved.
– You can link up with maximum of three posts per month, old or new.
– Grab the linky badge or link back to our blogs on your post.
– Please share the love and comment on other people's posts.
– If you could share your post and the linky (using the hashtag #craftingismytherapy) on any social media channels that would be great. This will help us to grow the community. We will retweet all your posts via Twitter if you mention us (@pouchvintage/@JenniferJain )
– And finally, if you would like to follow me on
Twitter
,
Pinterest
and
Facebook
, you're more than welcome! Jennifer Jain's links are here too:
Twitter
,
Pinterest
and
Facebook
.