All of Pouch's
peg bags
are made with vintage wooden coat hangers. One of the nice things about working with vintage materials is the fact that they have a history. Many of the coathangers I use have initials carved onto them, or names of hotels stamped into the wood. It all adds to the charm and I'm often intrigued by their history.
Often, vintage items can provide a snapshot of times gone by and this coat hanger is a perfect example. I found it amongst my collection and was fascinated by the still intact price label.
Not only does it show the now bankrupt Woolworths company's logo, it shows a dual price with the pre-decimalisation and post-decimalisation figure.
Decimalisation
took place before I was born, so the pounds and pence prices are second nature to me, but I can only imagine how confusing the switch must have been for people in the early
1970s




It's also sad to think that Woolworth's shops no longer exist. Founded in the 1920s, Woolworths was a popular fixture on high streets across the UK.

Woolworths was also responsible for creating and selling many household items that have since become collectable. In particular the Homemaker range. Designed in 1957 by Enid Seeney, Homemaker pottery was once made for the masses and sold cheaply by Woolies both in the US and UK.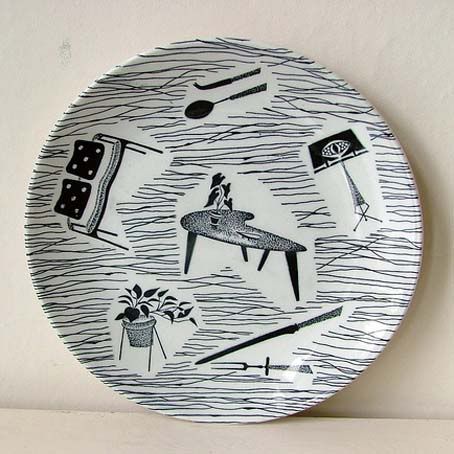 Image curtesy of the Kay Loves Vintage Blog

A victim of the recent financial climate, the final Woolworths stores shut down in 2008. It was sad to see them go. Many people, including myself, can remember that a trip to Woolies to get pick n' mix or to buy the latest 7 inch vinyl single was an essential part of a Saturday morning shop!




Having said that, it appears Woolworths is rising from the ashes in an online format. Take a look at Woolworths online to find out more!